Before we go further, let us define what the considered fragment is. Briefly, one is an incomplete construction; sometimes, it is a set of words or a phrase that has been disconnected from the main clause. To learn more about sentence structure and fragments, keep reading and discover how to avoid this problem in writing today.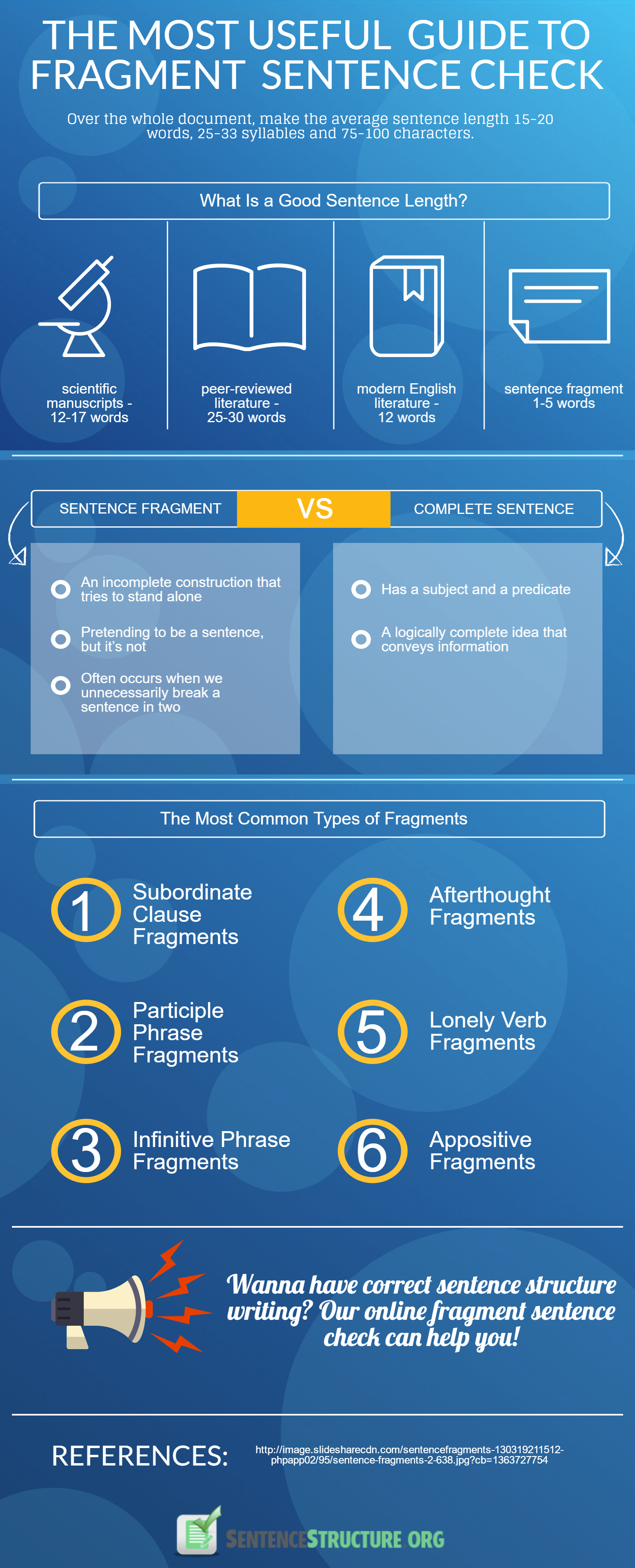 How to Avoid Fragments and What Is a Good Length
See to it that your average sentence length is 15 to 20 words, 75-100 characters or 25-33 syllables. So what is an ideal length, easy to compose and perceive?
In scientific manuscripts these should be 12 to 17 words.
In peer-reviewed literature these should be between 25 to 30 words.
In modern English language we use about 12 words.
Note, thant fragment is usually between 1 to 5 words.
Comparing a Fragment & a Sentence
Fragment
Has an incomplete construction that tries to be alone;
Has either subject or predicate alone;
Is pretending to be a complete structure, but is not;
Is actually a subordinate clause;
Often occurs in an unnecessary break and usually needs to separated by commas, not dots.
Complete Sentence
Has a subject and a predicate;
A logically complete idea that conveys information.
What Are the Most Common Types of Fragments?
Subordinate clause fragments
Participle phrase fragments
Infinitive phrase fragments
Afterthought fragments
Lonely verb fragments
Appositive fragments
Do you want to check grammar of sentence and avoid fragments? You can now write with correct structures by using the best fragment sentence checker. Here is how:
After writing, edit your paper using our checker. What you just need to do is to copy and paste your texts. Alternatively, you can type into the box directly and check your paper when done by hitting the "Check your text" button. Our corrector will help you spot the most common fragment mistakes that you commit and will eventually improve your grammar and writing skills.
If you need help with your paper, you don't need to think twice but be like most of our users that make use of the tool in perfecting their text on essays, research papers and presentations, to name some.
Use our sentence fragment checker as soon as you need it! You don't need to hesitate anymore, professionals will make you feel relief.